7 Powerful Ways to Boost Your Team Performance
posted on Feb 5 2016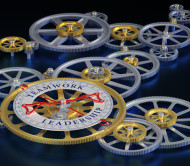 "Coming together is a beginning. Keeping together is progress. Working together is success."   ~ Henry Ford ~
While much has been written about the importance of teamwork in reaching objectives in organizations, there is often little thought and effort that goes into creating and developing effective teams.  Groups of people are often thrown together for major projects without much effort being put into developing them into a team that will be motivated and work well together towards a common goal. While most organizations do well with the technical aspects of team projects, such as timelines and actions plans, it is on the people building part that they fall short.  With a little effort, thought and foresight, many of the problems that plague teams can be avoided.
As a team leader here are 7 considerations when putting a team together.
Make sure everyone understands and buys into WHY!
People generally will put minimum effort into something they consider unimportant or see as a make for work project.  At the beginning, make sure that everyone understands the importance of what you are doing and how it fits into the overall goals of the organization. Take time to answer questions and give everyone on the team a chance to talk about how they feel about what they are about to undertake.  Explain why there needs to be a team instead of everyone working individually. It is crucial that every member buy into the concept that a team can accomplish more than as an individual.
Model the behaviour that you wish to see from your team
In order to develop trust and cohesion among the team members, as a team leader you need to model the behaviours that you wish to see. That includes sharing your frustrations and being vulnerable.  By being open and vulnerable you send the message to the other members that it is okay to be the same way. This will build trust and is an important aspect of having a team meld into a working unit.  Be open and honest about how you like to work and your leadership style.  If you make a mistake, readily admit it and take full responsibility. 
Keep communication direct and within the team as much as possible
While your superiors may require updates on what is going on, only share progress reports and keep the dynamics of what is happening within the team out of it. Team members will lose trust if they feel you are sharing everything that is going on. If there are issues with any members of the team that are impacting performance, take them aside and have a conversation. Prepare for these conversations ahead of time so you don't come across as angry or accusatory. Point out what you have noticed. For example, "I thought you sounded angry when Ryan questioned your knowledge of outsourcing. Tell me more about that." Ask open ended questions that start with "It sounded to me like, or it felt to me like." Only bring up the behaviour that you observed, never make judgements about why they may have behaved as they did.  It is possible that what you observed was not what the team member intended. For example, you would never say "Were you angry because you thought Ryan was getting more attention that you."   
Have a short check in at the beginning of every meeting
At the beginning of every meeting have a short emotional check in to see where everyone is at and what they are bringing with them.  Limit the time for this and be clear that this is not a personal therapy session but a way to get grounded before settling into work that needs to be done.  It only serves to remind people that they are individuals with personal struggles that they bring with them to work. This allows other members to connect with each other and helps develop trust. Perhaps a member has a family member who has passed away, is seriously ill or experiencing a serious personal problem.  By allowing a brief sharing period it allows other members to understand why someone in the group might not be their usual self. This also helps the group leader see if someone needs attention and time outside of the group.  There may be instances where a traumatic situation has affected the group that requires some caretaking before the group is able to move into a working mode. 
Celebrate wins and acknowledge individual contributions
Celebrate successful steps along the way. For example finishing a report that was well received could call for a buying lattes for everyone or going for a drink after work. It is also important that everyone's unique contribution is recognized and how that contribution fits into the overall the success of the team. Various personalities bring different aspects to the group and contribute in different ways. The stickler for details ensures that valuable information isn't overlooked and the jokester lightens the mood of the group, lessening the stress and lubricating the team process. 
Make the WIFM'S clear. Build in incentives and rewards
At the beginning, communicate clearly what the potential rewards are for successfully carrying out the project. These are not only monetary but other intrinsic rewards. Perhaps it is increased visibility to the leadership in the organization and chances of promotion in the future. It could be recognition in terms of winning an award or public acknowledgement of a job well done.   An opportunity to gain new skills and knowledge which will increase opportunities and market value of the individuals on the team could be a strong incentive.  This gives everyone a stake in the outcome of the team effort and increases their commitment to the success of project. 
Get out of the office on occasion
The best way to get to know people you work with is to get them away from the office and spend some time together.  The office creates superficial barriers that prevent people from sharing themselves more openly with others. Getting away from the office allows coworkers to feel more open to share.  We can often learn more about a colleague from a short amount of time over a drink or fun activity away from work than from years in the workplace.  Seeing others in a relaxed atmosphere, away from the pressures of the workplace, allows us to see them in a different light and gives us greater perspective of their unique challenges and abilities.