EI Game Changers
What others are saying about Emotional Intelligence Game Changers and Harvey Deutschendorf
Harvey Deutschendorf  has hit the mark again with his new book, "Emotional Intelligent Game Changers, 101 Simple Ways to Win at Work and Life." The book is full of short articles about Emotional Intelligence that are easy to read, yet will resonate for readers.  The book is nicely laid out with an easy-to-follow Table of Contents, which allows readers to pick out topics of interest to read first, or they can read through the book in order.

I currently use Harvey's book, "The Other Kind of Smart," in my Executive Coaching practice, and I am excited to use this new book in my practice.  Using Emotional Intelligence is the best way to have a better understanding of "self" as well as a better understanding of "others."  This awareness and understanding brings a brighter, healthier, and more productive stance on life! 

~ Judy Bell, PHR, CPBA, CPVASHRM CP President, Judy Bell Consulting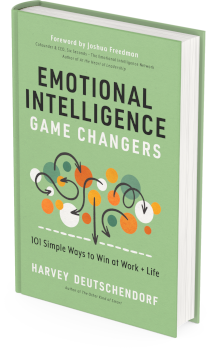 Harvey has done it again. This is not the ordinary leadership book. Through a creative but clear approach and specific topics, he shares tips bursting with answers and application. Each tip is only two or three pages, has several bulleted points, and one prompt to help you think through how to apply the information. The table of contents is an explosion of ideas where you can jump from "Avoid toxic types at work" to "Enjoy the benefits of being vulnerable", to "Foster a sprit of giving." As the director of a crisis resources nonprofit I appreciated Harvey's willingness to tackle leadership topics like "Learn how to deliver bad news", "Prepare for times of crisis" and "Combat employee loneliness at work". There are 101 of these gems that are unusual and interesting. This is a much needed book in any leader's collection and will become your go to source. Don't wait to get this book.

Susan M, Bartel, EdD Executive Director, Kate's Heart Foundation Retired Maryville University doctoral professor of leadership
If you are looking for a deeper understanding of emotional intelligence and its many useful applications to positively impact your life, Emotional Intelligence Specialist, Harvey Deutschendorf's newest book, "Emotional Intelligent Game Changers, 101 Simple Ways to Win at Work Life" will provide you with easy to implement and practical emotional intelligence tactics that will strengthen your personal and professional relationships, helping you achieve your goals! A must read for anyone looking to create the conditions in their work life where strong relationships are valued, cultivated and rewarded!

~ Shona Elliott, CEO and Founder, Shona Elliott's Leadership Services and author of Creating Value as a Senior Leader, Effective Strategies to Increase Engagement, Align with your Employees, and Achieve your Organization's Goals.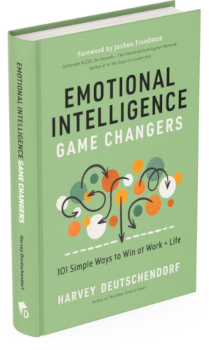 "Emotional intelligence is the foundation of highly effective leadership. Harvey has succinctly boiled down decades of EI research to very practical application points and exercises. Emotional Intelligence Game Changers is highly readable in bite-sized pieces. It can change your personal, team, and organizational game."

~Jim Clemmer, leadership/culture development author, facilitator, and coach
Filled with practical strategies and timeless wisdom, "Emotional Intelligence Game Changers: 101 Simple Ways to Win at Work and Life" is a valuable guide to leveling up your self-awareness, relationships, and success. Covering everything from imposter syndrome to building influence, you'll find yourself revisiting this treasure trove of tips again and again.

~ Melody Wilding, LMSW, human behavior professor and author of Trust Yourself: Stop Overthinking and Channel Your Emotions for Success at Work
 "The next generation of successful leaders will need to master emotional intelligence as a skill to navigate a world of constant change, global crises and to engage an increasingly purpose-driven workforce. Game Changers is the modern-day manual for leadership in these times. Deceptively simple, yet profoundly wise, Harvey unpacks practical tips to cultivate the superpower of emotional intelligence. This book is a gift that you will want to keep by your side to refer back to time and time again."

~Sona Khosla, Chief Impact Officer at Benevity and Host of the Speaking of Purpose podcast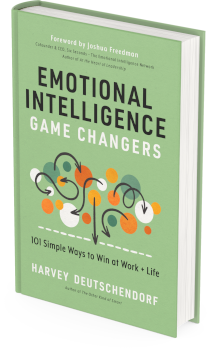 Harvey Deutschendorf in his new book underscores the importance of how being emotionally smart and intelligent could change one's perspective on one's Life journey & goals.
I highly recommend "Emotional Intelligence Game Changers"

101 Simple Ways to win at Work+Life. Congratulations & all the best.

~Nevine Rashed (She/Her)  1st degree connection Retail Senior Marketing Manager E-Finance. EQ Coach. Certified EQ Practitioner/ Assessor/ Brain Profiler at Six Seconds. Translator/Simultaneous Interpreter.
Emotional intelligence is a really important skill for everyone to thrive in life. It's useful in both our personal and professional lives. If we want to overcome challenges like putting things off, dealing with difficult situations, or if we want better relationships with our loved ones, emotional intelligence can make a big difference. Harvey's book 'Emotional Intelligence Game Changers: 101 Simple Ways to Win at Work and Life' provides practical solutions to common problems we encounter every day offering easy tips and straightforward advice that anyone can understand and use.

~Paula Quinsee: Founder of Engaged Humans, author and international speaker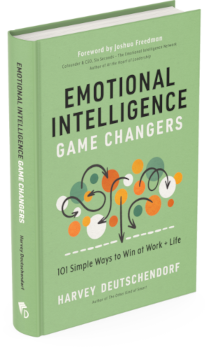 In my professional experience as an executive coach interacting with hundreds of leaders and their teams, I am always looking for material that enriches my ability to uplevel my clients  and aligns with an EI (emotional intelligent) centric leadership model.  Harvey Deutschendorf has created a masterpiece, Emotional Intelligent Game Changer, that is engaging for experienced practitioners yet simple enough for beginners to grasp the concepts with practical activities for thought provoking reinforcement. Harvey shares his vast wealth of knowledge on the topic of emotional intelligence in a brilliant and compelling book that will take its place among the celebrated experts and masters. It is truly a game changer.

~Lydia Henry, CEO Vision Coach Dynamics, Coaching and Consulting Professional Certified Coach – credentialed by the International Coaching Federation. Member of the Harvard Institute of Coaching – Mc Clean, Affiliate of Harvard Medical School
Built on a strong foundation of empathy and a lifetime of social-emotional intelligence, "Emotional Intelligence Game Changers: 101 Simple Ways to Win at Work and Life" is a valuable guide for enhancing your people skills. Far from overwhelming, it provides 101 bite-size scaleable tips to build your soft skills to enhance your life and your interactions with others. 

~Lynne Azarchi, Executive Director of Kidsbridge Youth Center; Bias Busters youth education